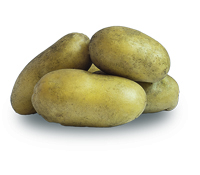 IBIS – Regional variety – good for all conditions
Medium early, edible variety.
BC culinary type, generally usable to slightly floury
Starch content 15.3%.
The tubers are quite large, oval, fairly regular, light smooth skin, shallow eyes, light yellow flesh.
Resistant to virus Y, common scab and mechanical damage to tubers.
Direct consumption until the end of the storage period, production of fries for dried and frozen products, as well as washing and packaging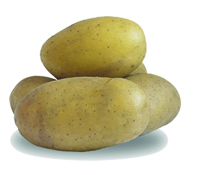 IRGA – Warsaw delicacy
Medium early, edible variety,
Culinary type B, general purpose.
starch content 14.4%.
The tubers are quite large, round-oval to oval, slightly flattened, regular, light pink skin, smooth, shallow eyes, cream flesh.
Recommended for cultivation in rich soils
Variety recommended for direct consumption, variety with exceptional taste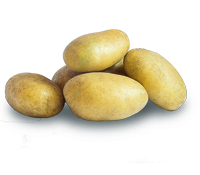 KOLIA – Regional variety – jewels of Polish land
medium-early variety, very fertile, edible
Culinary type B, general purpose, good taste.
Starch content approx. 14%.
Round-oval tubers, quite large, light pink skin of varying color intensity, light pink, shallow eyes, light yellow flesh.
Cancer resistant variety.
Fairly resistant to Y virus and resistant to leaf roll virus.
Resistant to black leg and common scab.
Useful for processing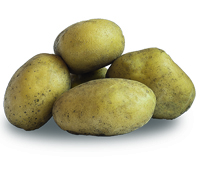 MILA – the essence of the taste
medium early variety, edible. Average yield.
Culinary type general to floury (BC).
Starch content 16.2%. Taste good.
Round-oval, slightly flattened, medium-sized tubers, medium shallow eyes, slightly rough skin, yellow flesh.
Recommended for cultivation in rich soils
The relatively high resistance of tubers to fungal and bacterial diseases as well as high resistance to mechanical damage ensure good storage stability of this variety.
High resistance to virus Y and leaf roll virus.
It can be used in the production of crisps, fries, and for direct consumption.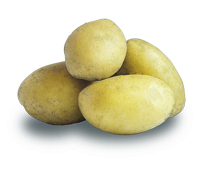 ZEBRA – Regional variety – safe harvest
medium early variety, edible,
utility type general utility B,
exceptionally good taste,
starch content 14.7%.
Oval, regular, large tubers, white skin, slightly reticulated, shallow eyes, light yellow flesh.
Not resistant to cyst nematodes, resistant to cancer
Perfect for washing and confectioning, suitable for long composition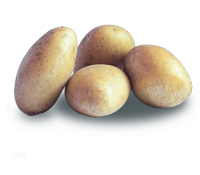 ŻAGIEL – Regional variety – gift from Masuria
medium early variety, edible,
starch content 12.6%
culinary type salad to general use (AB).
Round-oval, shapely, large tubers, quite fertile, light rough skin, shallow eyes, light yellow flesh.
Resistant to nematode, very resistant to leaf roll virus, moderately resistant to late blight.
Perfect for washing and packaging and for gastronomy