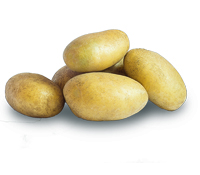 LAWINA – Regional variety – the power of the crop
medium late variety, very fertile,
A variety of culinary type C, floury, good taste.
Starch content approx. 17%.
It can be used as an edible variety, for processing and for the starch industry
Round-oval, slightly flattened, rather large tubers, yellow skin, smooth, shallow eyes, light yellow flesh.
Resistant to potato cyst nematode and potato cancer, resistant to Y virus and very resistant to leaf roll virus. Very resistant to potato blight, high resistance to black leg.
Moderately resistant to common scab.
It is a variety with increased water requirements.
Suitable for industrial processing into starch and spirit, also for the production of chips, cubes and puree, also suitable for consumption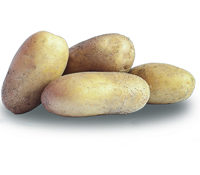 BZURA – pattern of resistance
starch variety, late
Consumption type C, mealy
18.8% starch content.
Round-oval tubers, very large, fairly good regularity of shape, rather shallow eyes, light yellow flesh.
Very resistant to Y virus, PLRV, very resistant to leaf blight,
Due to the high dry weight, it is moderately resistant to mechanical damage. It keeps well with proper harvesting technology
A variety for the starch industry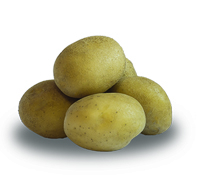 SONDA – stable starch yield
late, starchy variety.
culinary type C
18.7% starch content.
Round-oval, quite regular, medium and large tubers, yellow rough skin, medium shallow eyes, cream flesh.
Resistant to potato cyst nematode, to cancer. Resistant to Y virus and potato blight, low resistance to leaf roll virus
It stores very well.
Useful for the production of crisps.