COMPANY


The history of the Seed Centre in Nidzica dates back to 1956. Our company has been active on the market since 2000. We are a family company based on several decades of tradition and experience. The vast majority of seed production takes place on the farm of the company. The area of about 1000 ha of seed production, including 250 ha of seed potatoes, allows strict quality control, which brings satisfaction to the most demanding customers. As of the first day of our activity, we
have set ourselves one goal – we want to build a trustworthy brand. We invite you to work with us. Should you have any suggestions or comments, do not hesitate to send them to us for our review.
Gospodarstwo Produkcji Rolnej "Centrala Nasienna" Sp. z o.o. is a company that focuses onthe provision of comprehensive services in the agricultural sector.
The main activities of the company include:
production and distribution of certified seeds, including seed potatoes
purchase and sale of agricultural crops, including the purchase of cereals, rape, legumes and potatoes
sale of fertilizers, plant protection agents and foliar fertilizers
provision of agriculture and industry technical services – CN SERVICE
garden centre – HOME AND GARDEN
provision of services in the area of purchasing, transporting, cleaning, drying and storing of agricultural produce
CN Nidzica has been active in the seed industry for more than 60 years.
The combination of tradition and innovative management enabled us to be among the leaders of domestic agricultural companies.
Numerous awards and certificates and a large number of regular and satisfied customers guarantee the highest quality of our brand.
The seed material produced mainly on the Company's farm is subject to quality control at each stage of production.
In recent years, we have modernized our production and storage buildings as well as technological lines located in them – as a result, we are able to produce a world-class product.
We are expanding our range of products, services and activities all the time.
Our mission is to provide comprehensive services for agriculture and build a brand which promotes trust.

Our mission is to provide comprehensive services for agriculture and build a brand whichpromotes trust.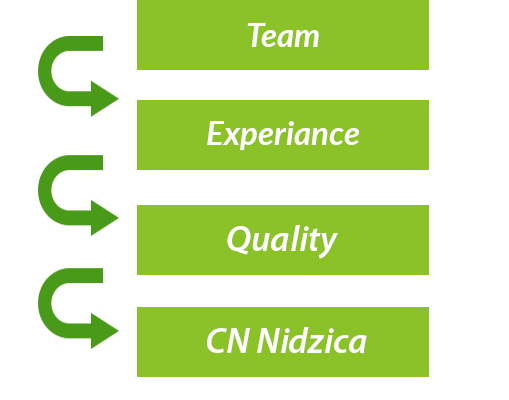 CN NIDZICA is one of the leading companies in the field of agricultural services. Our company has been supplying agricultural producers with seeds, potatoes, fertilizers and plant
protection agents for agricultural production for several decades
Many of our products have been recognized as leading products. We are confident that our services and support will meet your expectations and guarantee high profitability. CN NIDZICA is not just our workplace. We have been developing our family business withpassion for 16 years.
We offer a wide range of products and services.
We fulfill every order quickly and efficiently.
We are at your disposal 365 days a year and guarantee quality, professionalism and punctuality
Our partners include the leaders of agricultural market both from Poland and all over the world.
Our suppliers are the best manufacturers and distributors.
Thanks to reliable partners and long-term cooperation we have been able to build such a strong Company on our market.
The companies which we cooperate with include:
Many years of experience and standing on the market have resulted in many awards.
We belong to the elite group of Business Gazelles.
We have also received a distinction in Forbes Diamonds ranking.
Our distinctions include: