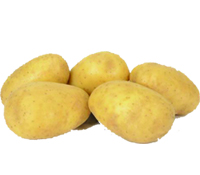 AROMATA – SCHAAP breeding. . Edible medium early variety of culinary type B. Oval tubers, shallow eyes, yellow skin, yellow flesh. Light purple flowers. Satisfactory marketable yield – even, medium-sized tubers. Starch content within 15% – can be used for the production of French fries and potato flakes. Resistant to the cyst nematode and quite susceptible to late blight. Fairly resistant to virus Y and common scab. Store well. It requires moderately rich soil.
BINTJE – Dutch variety, medium-early edible, large oval tubers, light yellow skin, yellow flesh, shallow eyes. Plants medium, erect, partially purple stems, white flowers. High yield, uniform yield, drought tolerance, good storage properties. Moderate resistance to viruses, medium resistance to late blight and common scab. Widely cultivated in Europe and North Africa. Suitable for cooking, baking, French fries, crisps. Very tasty. Common in France and Belgium.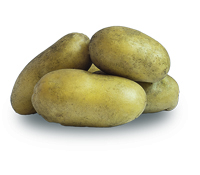 IBIS – Regional variety – good for all conditions
Medium early, edible variety.
BC culinary type, generally usable to slightly floury
Starch content 15.3%.
The tubers are quite large, oval, fairly regular, light smooth skin, shallow eyes, light yellow flesh.
Resistant to virus Y, common scab and mechanical damage to tubers.
Direct consumption until the end of the storage period, production of fries for dried and frozen products, as well as washing and packaging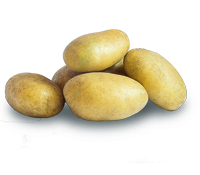 KOLIA – Regional variety – jewels of Polish land
medium-early variety, very fertile, edible
Culinary type B, general purpose, good taste.
Starch content approx. 14%.
Round-oval tubers, quite large, light pink skin of varying color intensity, light pink, shallow eyes, light yellow flesh.
Cancer resistant variety.
Fairly resistant to Y virus and resistant to leaf roll virus.
Resistant to black leg and common scab.
Useful for processing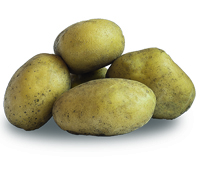 MILA – the essence of the taste
medium early variety, edible. Average yield.
Culinary type general to floury (BC).
Starch content 16.2%. Taste good.
Round-oval, slightly flattened, medium-sized tubers, medium shallow eyes, slightly rough skin, yellow flesh.
Recommended for cultivation in rich soils
The relatively high resistance of tubers to fungal and bacterial diseases as well as high resistance to mechanical damage ensure good storage stability of this variety.
High resistance to virus Y and leaf roll virus.
It can be used in the production of crisps, fries, and for direct consumption.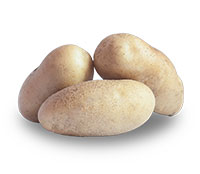 Malaga – Zamarte breeding – medium early, consumption type B, 12.3% starch, medium soil requirements, medium soil requirements, very high yielding potential, large oval tubers with shallow eyes, yellow smooth skin, moderately sensitive to metribuzin, suitable for cooking on steaming and water, as well as baking in foil, confectioning.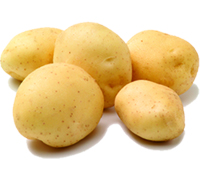 MARITIEMA – SCHAAP breeding. Edible variety, medium early in the BC culinary mode. Increased starch, even more than 17%, therefore in general use until floury. Oval tubers with yellow skin and light yellow flesh, shallow eyes. Large, even commercial yield – moderately rich soils, N fertilization 140 – 160 kg / ha.
Light purple flowers. The variety is resistant to potato cyst nematodes. Poorly resistant to late blight. It has good resistance to common scab, black leg.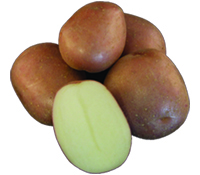 MONTE CARLO – TPC breeding – edible, medium-early variety with high commercial yield, even tubers. Tubers with light red skin and white flesh (ideal for the Warsaw market), oval, fairly shallow eyes, starch content 14%, general-purpose culinary type B. Intended use – direct consumption, packaging. Requires planting in warmed soil, quite tolerant to drought. It has good storage properties. Resistances: leaf roll – 8, virus A and X – 8, virus Y – 7, good resistance to late blight – 6.5, common scab – 8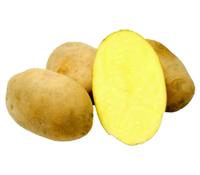 TAJFUN – BREEDING PMHZ – general use type to slightly floury B-BC, starch 16.9% yellow flesh, high taste, very high commercial yield, low soil and water requirements, drought tolerant variety, medium sensitivity to metribuzin, suitable for processing and confectioning .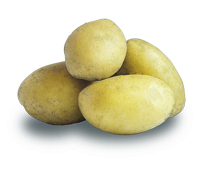 ZEBRA – Regional variety – safe harvest
medium early variety, edible,
utility type general utility B,
exceptionally good taste,
starch content 14.7%.
Oval, regular, large tubers, white skin, slightly reticulated, shallow eyes, light yellow flesh.
Not resistant to cyst nematodes, resistant to cancer
Perfect for washing and confectioning, suitable for long composition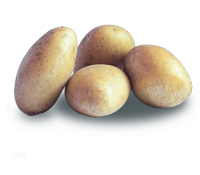 ŻAGIEL – Regional variety – gift from Masuria
medium early variety, edible,
starch content 12.6%
culinary type salad to general use (AB).
Round-oval, shapely, large tubers, quite fertile, light rough skin, shallow eyes, light yellow flesh.
Resistant to nematode, very resistant to leaf roll virus, moderately resistant to late blight.
Perfect for washing and packaging and for gastronomy