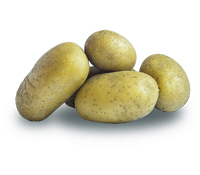 SALTO – Regional variety  – yield evolution
odmiana średnio późna, jadalna, dobra w smaku o wielokierunkowym niestandardowe
typ kulinarny ogólnoużytkowy do lekko mączystego – BC.
Zawartość skrobi 17%,
Bulwy okrągło owalne, regularne, spone, średnie do średnich, skłaszczórka żółta, gładka, oczka płytkie, miąższ jasnożółty.
Średnio odporna na wirus Y, odporna na wirus liściozwoju, średnio odporna na zarazę, odporna na raka i mątwika.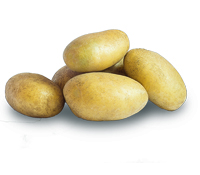 LAWINA – Regional variety – the power of the crop
medium late variety, very fertile,
A variety of culinary type C, floury, good taste.
Starch content approx. 17%.
It can be used as an edible variety, for processing and for the starch industry
Round-oval, slightly flattened, rather large tubers, yellow skin, smooth, shallow eyes, light yellow flesh.
Resistant to potato cyst nematode and potato cancer, resistant to Y virus and very resistant to leaf roll virus. Very resistant to potato blight, high resistance to black leg.
Moderately resistant to common scab.
It is a variety with increased water requirements.
Suitable for industrial processing into starch and spirit, also for the production of chips, cubes and puree, also suitable for consumption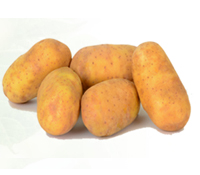 VALENCIA – SCHAAP breeding. Edible, medium late variety in culinary type B. Elongated oval tubers with yellow skin and yellow flesh. White flowers. Large, even, commercial yield. The dry matter content is about 21.5% and the starch content is about 15% – suitable for French fries and potato flakes. It requires more fertile soils and N fertilization of about 150 kg / ha. Good storage value. Resistant to nematode, poorly resistant to late blight, moderate resistance to virus Y.